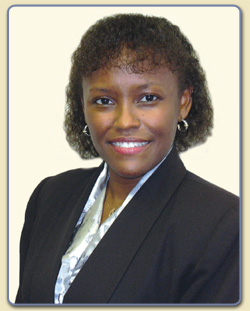 Ms. M. DeVondria McClure
Charlotte Office
The president of The Law Offices of M. DeVondria McClure, P.C. in Charlotte, North Carolina. She is a native of Charlotte and is fluent in Spanish. Ms. McClure obtained her Bachelor of Arts undergraduate degrees in International Relations and Spanish from Stanford University in Stanford, California in 1994. She then graduated from the University of North Carolina at Chapel Hill School of Law in 1997.
After practicing criminal and traffic law in Alamance County, North Carolina for a short time in 1998, Ms. McClure returned to Charlotte at the end of 1998 and worked for a small law firm focusing on criminal and traffic law, immigration law, and divorce law. In June 2003, Ms. McClure opened her own private law firm and continues to practice criminal and traffic law and immigration law.
Ms. McClure is a member of the Mecklenburg County Bar (Criminal Law Section, Immigration & Nationality Section, and Small Law Firm Section), the Union County Bar, the North Carolina State Bar, and the American Immigration Lawyers Association.